Carrie Underwood, Hannah Brown and More Stars Who Made the Best Dressed List at the 2019 CMAs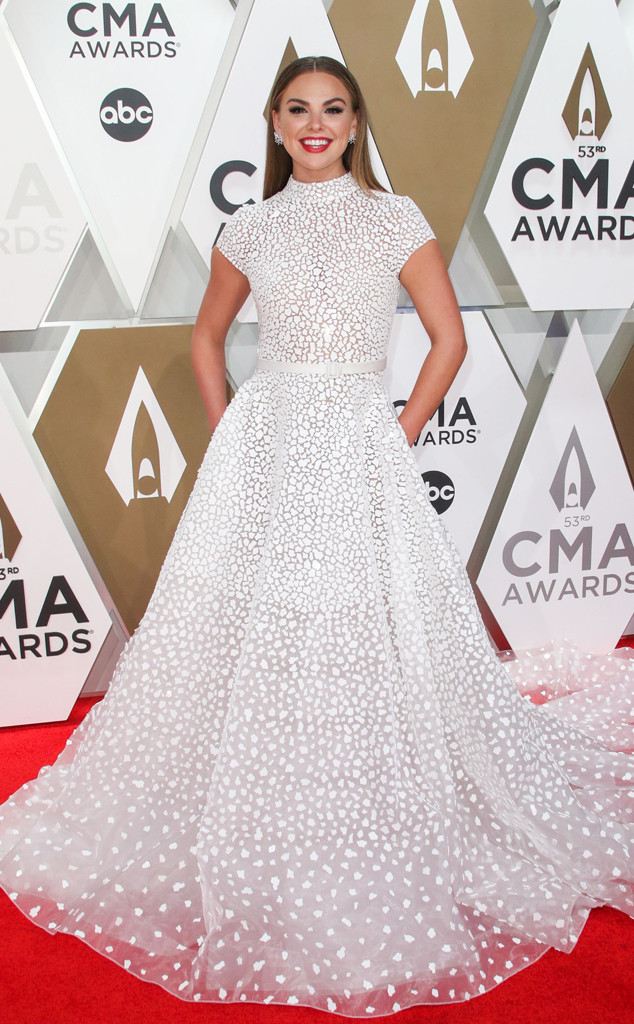 Matt Baron/Shutterstock
Tonight, celebrities are bringing fairy-tale fantasy to the red carpet.
Country music's biggest stars are pulling out all of the fashion stops for the 2019 CMA Awards. From blinding beaded embellishments to larger-than-life ballgowns, this year's attendees didn't disappoint in the style or beauty department.
In fact, jaws hit the floor when Hannah Brown graced the red carpet wearing a dazzling white design that looked straight out of a fairy-tale. The reality TV personality's angelic ballgown, by Atelier Zuhra, certainly made a statement, as it enveloped the entire red carpet. Her red-hot lipstick color, eye-catching stud earrings and slick-straight hair tied her effortlessly elegant look together.
Moreover, Maren Morris brought the wow factor to awards ceremony with her over-the-top dress. Everything from the extreme front cut-out to the dramatic puffed sleeves to the vibrant baby blue color was certainly one to remember.
Billowing ballgowns weren't the only fashion pieces to leave people in awe.
Mickey Guyton slipped into a fierce bright-orange jumpsuit that was nothing short of basique! Plus, her soft-glam makeup and equally vibrant accessories added a fun splash of color. Additionally, country royalty Carrie Underwood brought showgirl vibes to the ceremony with her sheer gown that was bedazzled from head-to-toe.
With so many otherworldly designs hitting the red carpet, we've only scratched the surface here. Take a look at the best dressed celebrities in our gallery below!
John Shearer/WireImage
Carrie Underwood
It's showtime for Underwood, who oozes with glamour in a nude sheer dress that's bedazzled with golden jewels all over.
John Shearer/WireImage
Reba McEntire
The legendary country singer brings the glitz and the glamour to the red carpet with her sparkly black dress.
Matt Baron/Shutterstock
Hannah Brown
A vision in white! The Bachelorette star looks straight out of a fairy-tale with her enchanting ballgown that envelopes the red carpet with its enormous skirt.
John Shearer/WireImage
Jennifer Nettles
Making a statement! The Sugarland singer turns heads and stops traffic with her bold pantsuit, which features a hot pink cape that demands for "equal pay." 
Matt Baron/Shutterstock
Maren Morris
Royal blues! "The Middle" songstress goes for a bright and bold ensemble by Honayda for the star-studded ceremony. What's more? She playfully pays homage to her unborn son by wearing a baby blue ballgown.
Matt Baron/Shutterstock
AJ McLean
Hot as blue blazes! The Backstreet Boys member gives attendees a run for their money with his dapper blue plaid suit and brown suede hat.
John Shearer/WireImage
Mickey Guyton
Guyton adds a splash of color with her vibrant orange jumpsuit. The attachable skirt and beaded corset-like top are a chef's kiss!
John Shearer/WireImage
Ingrid Andress
Ingrid is feeling "Lady Like!" The 28-year-old singer skips the typical gown for something more edgy and chic!
Stephen Lovekin/Shutterstock
Laine Hardy
Hardy takes fans to another planet with his out-of-this world blazer!
Matt Baron/Shutterstock
Carly Pearce
The 29-year-old singer brings daring and dazzling fashion to the 2019 CMAs with her silver-metallic gown.
Matt Baron/Shutterstock
Danielle Bradbery
A lady in red! The "Sway" songstress brings the heat to the awards show with her red hot, hot, hot gown!
John Shearer/WireImage
Michael Ray
The 31-year-old star leaves the boring suit at home and opts for something with more pizzazz.
For more updates on swoon-worthy fashion, OMG moments on the red carpet and more, E! has you covered. Read all about it, here.
Source : Link