Dog the Bounty Hunter's Wife Beth Chapman Dead After Cancer Battle: Relive Their Romance in Pictures
Dog the Bounty Hunter is mourning perhaps the greatest loss of his life. 
Reality star Duane "Dog" Chapman's longtime wife, Beth Chapman, has died following an ongoing battle with throat cancer. She was 51 years old. "It's 5:32 in Hawaii, this is the time she would wake up to go hike Koko Head mountain. Only today, she hiked the stairway to heaven," Duane tweeted on Wednesday. "We all love you, Beth. See you on the other side."
Just days ago, the couple's agent confirmed to E! News she was in a coma. "Beth is one of the strongest people I've ever known, and if anyone can beat this, it's her," the agent said in a statement. "No matter what happens, she and the family have placed all of their hope, faith, and trust in God. Other than that, I'd just ask that all of her and Duane's fans keep Beth and the entire family in their prayers."
Duane reiterated the message, urging fans on Twitter to "please say your prayers for Beth right now thank you love you." 
The heartbreaking news of her loss comes nearly two years since the late star first publicly confirmed her throat cancer diagnosis. "I will fight every step of the way. My husband and children are counting on me to be there for years to come," she told followers at the time. Just over a year later, she underwent emergency surgery, which confirmed the cancer had returned. 
"I'm here every moment I can be for her. I've never had to go through anything like this in my entire life," Dog told Us Weekly late last year. "I love my honey so much. I don't know what I'm gonna do."
The longtime loves had more than a decade of marriage together after tying the knot in 2006. Prior to their Hawaiian nuptials, the famed on-screen pair, who had known each other for decades before exchanging vows, welcomed a son and daughter together. As fans well know, they went on to chronicle their lives on two reality series—Dog the Bounty Hunter and Dog and Beth: On the Hunt—from 2004 through 2015. 
"I've been with her since she was 19, she's almost 100. Every picture I see of us together, I remember where it was," he previously told Us Weekly. "It just makes all those moments that you shared love a lot more real when that could be what you're left with: just the moments."
Instagram
Love Birds
It's date night for the longtime pair, who enjoys a fun-filled day at their hot spot. "Saturday afternoon with my wife at our favorite hang out," the 66-year-old reality TV star shares.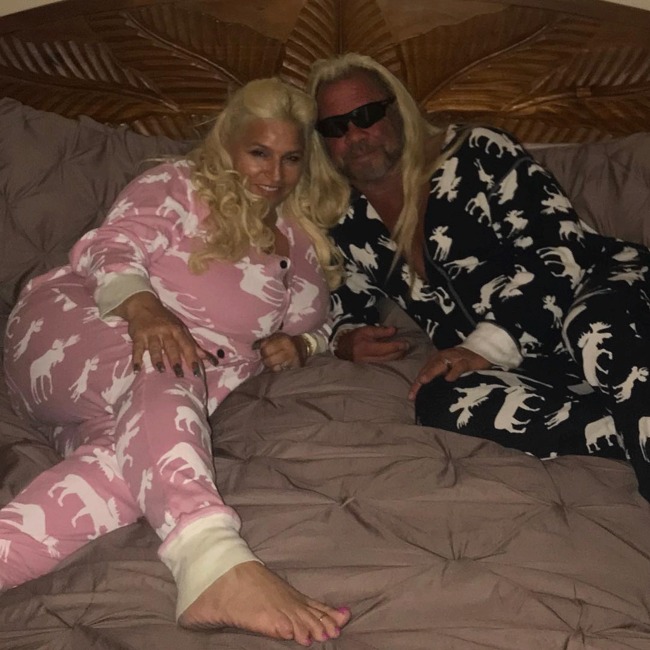 Instagram
Twinsies in Onesies
The couple adorably gets dressed in matching onesies. "A Dog and Beth Bedtime moment," she captions her Instagram post.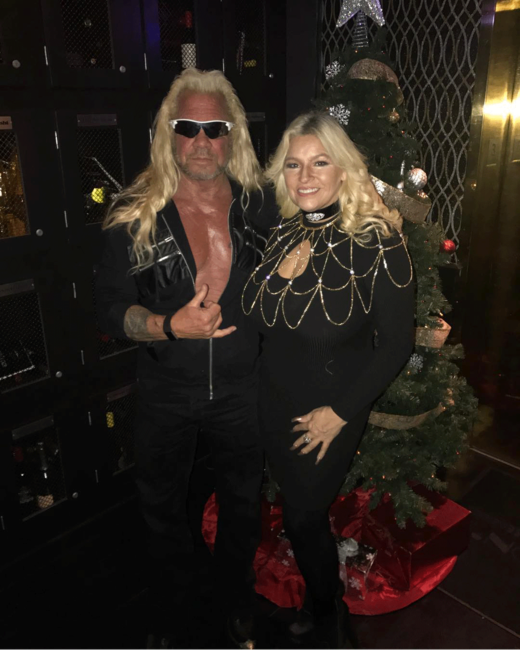 Instagram
Happy Holidays
The two celebrate the X-mas holidays in 2017 in festive 'fits. "Merry Christmas everyone," the blonde beauty writes.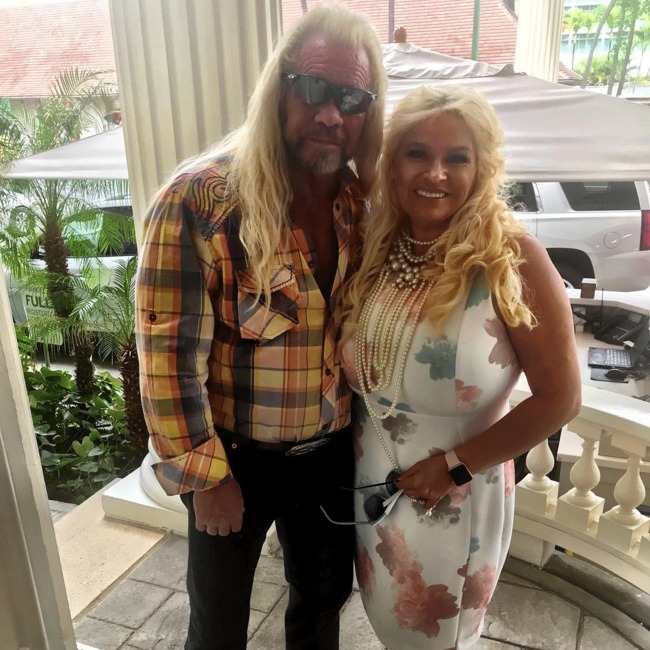 Instagram
Spring Fling
It's spring time and the reality TV personalities are celebrating the Easter holiday in Hawaii.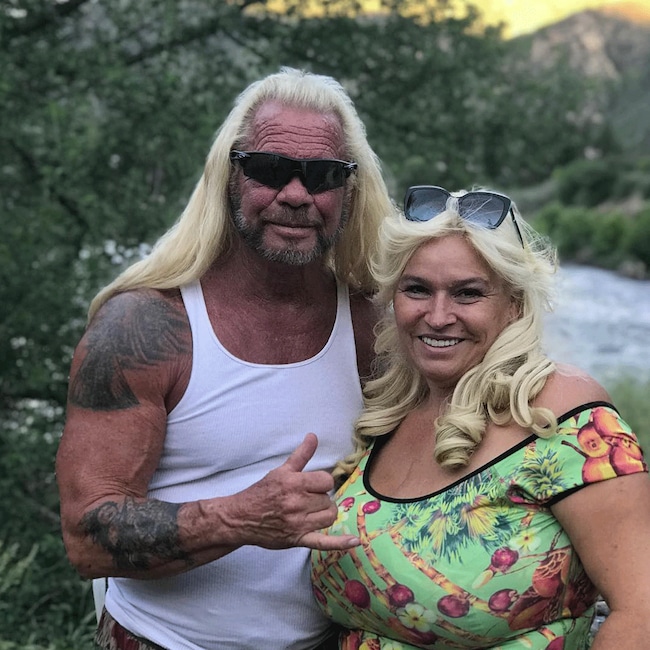 Instagram
One With Nature
"Now back to reality," Beth captions her Instagram post, alongside a photo of her and her husband enjoying the outdoors. "Had an amazing weekend together."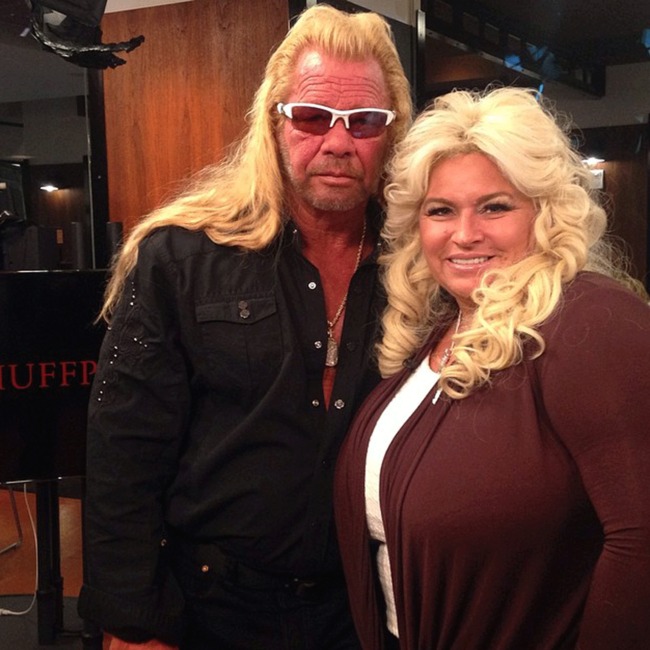 Instagram
World's Best Dad
The 51-year-old beauty shares a heartwarming post of her husband on Father's Day in 2014. "To the love of my life the father of my children and a man who plays father to many who don't have one @duanedogchapman your so special I thank god for you everyday I love you thank you for my children and my life."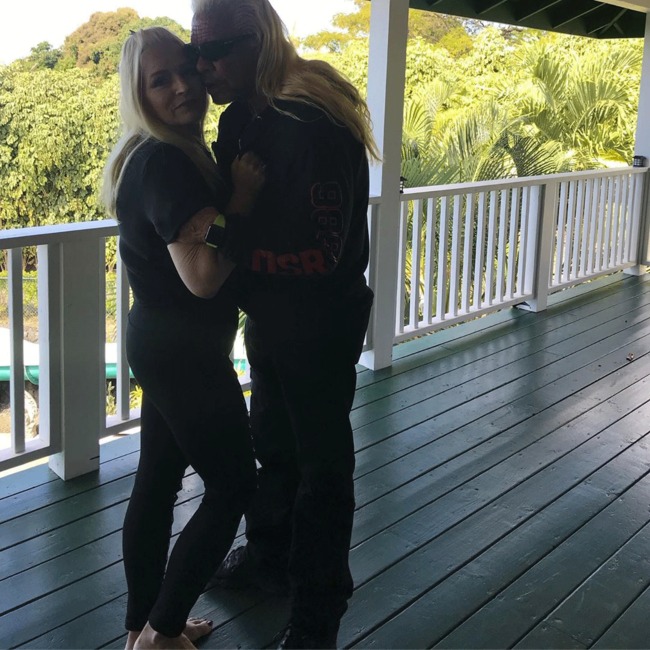 Instagram
Head-Over-Heels In Love
The couple is still head-over-heels in love with each other after being married for over a decade. "Sooooo in love with this guy," Beth expresses on social media.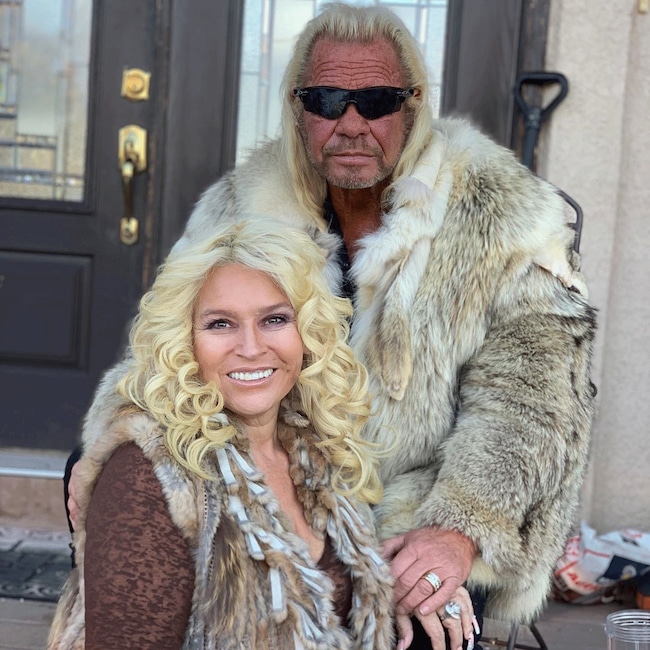 Instagram
Merry & Bright
"Merry Christmas from our house 2 yours," the blonde beauty captions her Instagram, along with a glamorous photo of her with her hubby.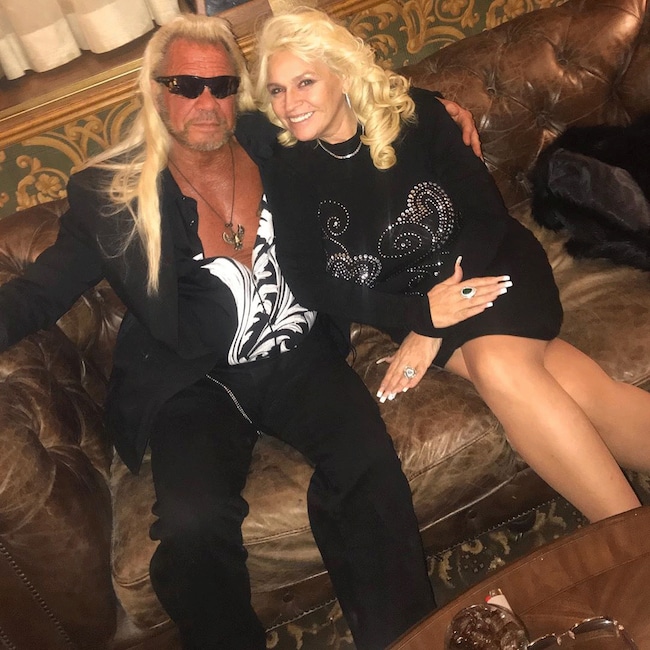 Instagram
Glitz & Glam
The couple gets dolled up for their family tradition during the holidays: "Theater with the kids for Christmas .. And Churchill's for dinner."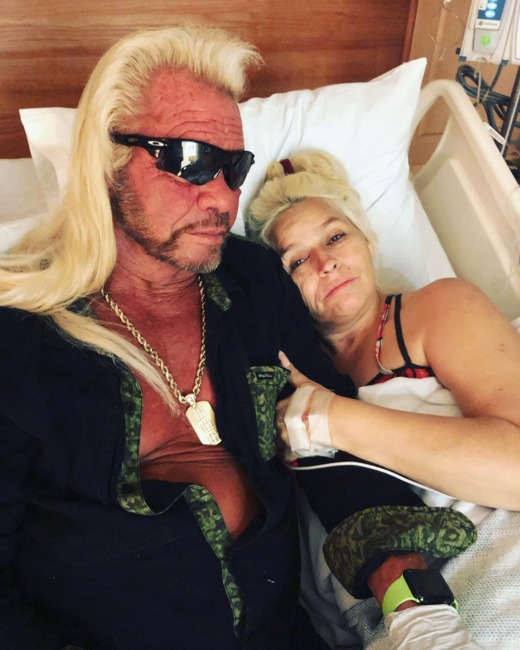 Instagram
Stronger Together
"Another bend in the Road yet not the End of the Road," the reality TV star expresses last year on Instagram.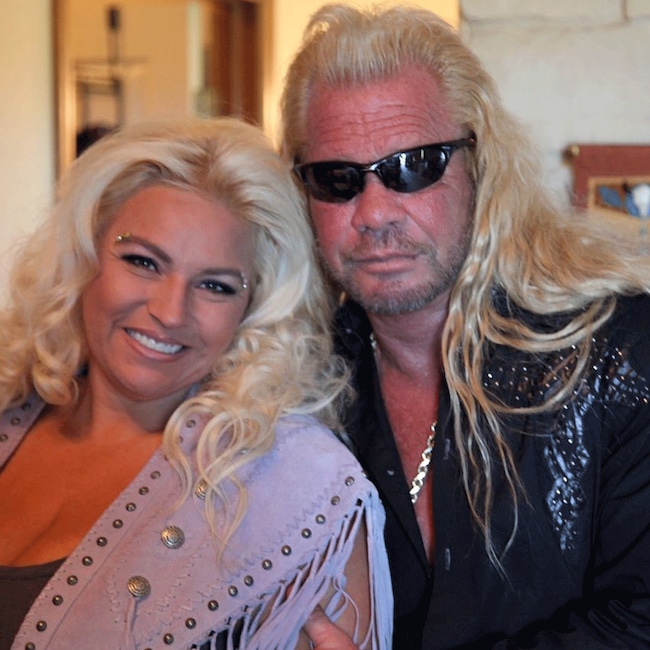 Instagram
Strike a Pose!
The two lovebirds are ready for their close-up as they look ultra-glam for the camera.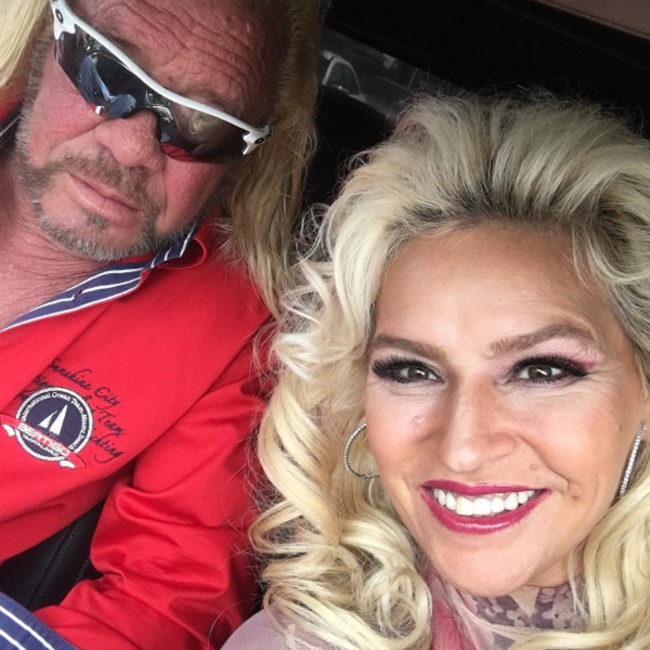 Instagram
Car Selfie
The two snap a quick selfie before enjoying a fun-filled Easter holiday.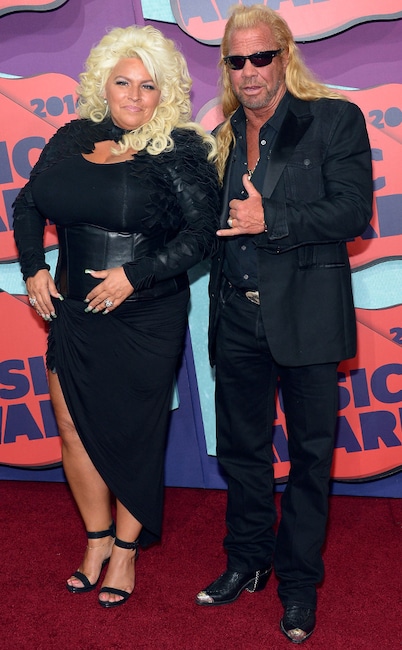 Michael Loccisano/Getty Images
Red Carpet Ready
The pair rocks matching all-black ensembles at the 2014 CMT Music awards.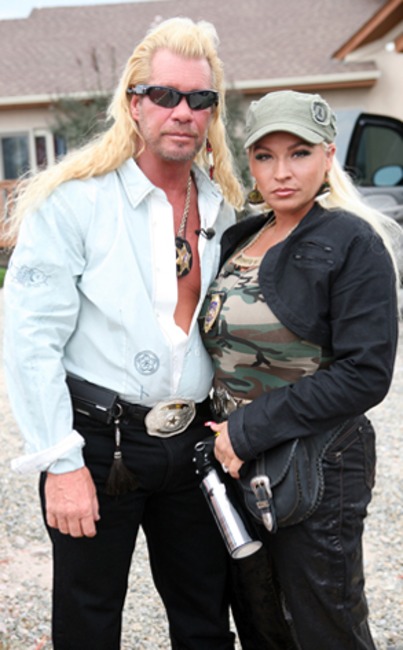 Scott Gries/A&E
Reality TV Stars
Where it all began! The couple takes on the small screen with their famous reality series, Dog the Bounty Hunter.
Our thoughts are with Beth Chapman's loved ones during this difficult time. 
Source : Link