Ventura County brush fires: 75000 homes under evacuation as Woolsey Fire rapidly grows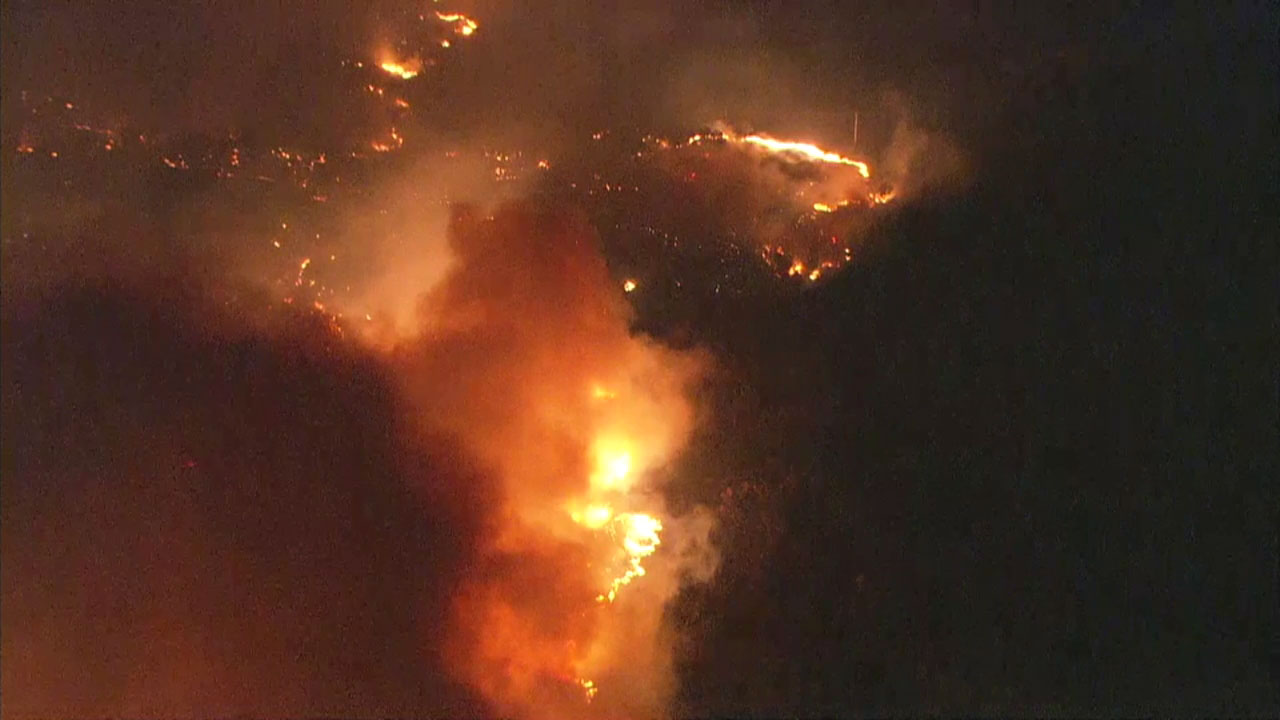 SANTA ROSA VALLEY, Calif. (KABC) —
One of two wind-driven brush fires that erupted in Ventura County Thursday exploded to 8,000 acres amid even stronger winds early Friday. Approximately 75,000 homes are under evacuation orders along the Ventura-Los Angeles border.
The blaze, dubbed the Woolsey Fire, started in Simi Valley near the Rocketdyne facility in the Santa Susana Pass.
By early Friday morning, the fire had grown to 8,000 acres with 0 percent containment. Multiple structures are damaged and destroyed, according to Los Angeles Fire Department Public Information Officer Erik Scott.
About 75,000 homes were forced to evacuate just for the Woolsey Fire, Scott said. No injuries have been reported.
Ventura County fire officials issued mandatory evacuation orders for Oak Park, Thousand Oaks residents from Thousand Oaks Boulevard to Sunset Hills, from Oak Park west to Highway 23, and Bell Canyon and Saddlebow Road between Maverick Lane and Morgan Road.
CITY OF CALABASAS Chief Williams from LA County Fire has issued VOLUNTARY evacuation orders for Calabasas at this time due to #WoolseyFire. No immediate threat but the fire is moving rapidly. More info. to follow when it becomes available.@LACOFD @LACoFDPIO @LACoFireAirOps

— City of Calabasas (@CityofCalabasas) November 9, 2018
New mandatory evacuation orders are in place south of the 101 Freeway and north of Potrero Road between Westlake Boulevard and Wendy Drive.
Voluntary evacuations were issued for Westlake Village, Agoura Hills, Calabasas and Hidden Hills, as well as all residences north of the 101 Freeway, south of Bell Canyon Road, west of Valley Circle Boulevard and east of the Los Angeles city limit, LAFD officials said.
Detailed fire and shelter information can be found at www.vcemergency.com.
The destructive flames are tearing through neighborhoods as wind gusts reach 30 and 40 mph.
A second fire burning in the Santa Rosa Valley east of Camarillo, west of Simi Valley near Newbury Park and Thousand Oaks, was mere miles from the scene of a deadly mass shooting that claimed 12 lives Wednesday night.
Ventura County fire authorities estimated the size of the blaze at upwards of 15,000 acres, but then officials downgraded the blaze to about 7,000 acres. Cal Fire tweeted that the blaze was about 10,000 acres.
Structures could be seen burning from the air as a line of flames closed in on a large residential area near Old Conejo Road.
Mandatory evacuations were issued for Cal State Channel Islands, Vallecito Mobile Home Park and the Camarillo Springs and Dos Vientos areas, authorities said. Point Magu Naval Base was under voluntary evacuation orders.
Fire officials estimated that 1,200 homes were evacuated in the Camarillo Springs and Dos Vientos areas.
MORE: Full list of evacuations, road closures in Ventura County fires
The 101 Freeway was under full closure from Borchard Road to Pleasant Valley Road in both directions.
Hundreds of Ventura County firefighters and eight air tankers were battling the flames on the ground and from above.
Plumes of thick, white smoke could be seen rising above the burn site as strong Santa Ana winds drove the flames amid red flag conditions.
The cause of the fires remain under investigation.
(Copyright ©2018 KABC-TV. All Rights Reserved.)
Source : Link