Zoë Kravitz Throws Major Shade at Lily Allen: "She Attacked Me"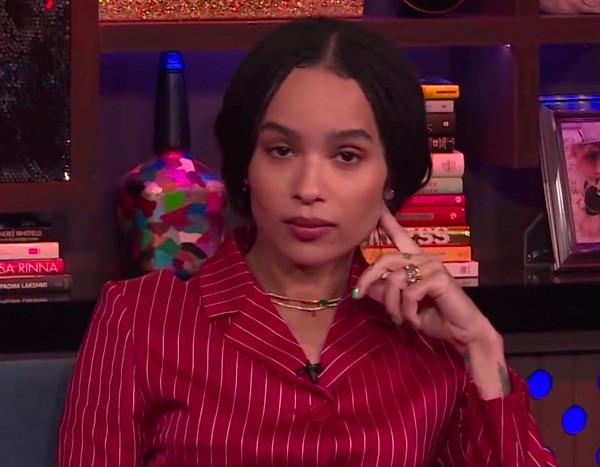 Zoë Kravitz and Eddie Redmayne had a blast appearing on Bravo's Watch What Happens Live With Andy Cohen Tuesday to promote their new blockbuster, Fantastic Beasts: The Crimes of Grindelwald. But things took a turn when a fan called in to ask her a non-film related question.
"Did Lily Allen warn you that she was going to write about the two of you kissing in her autobiography?" a female fan asked Kravitz over the phone. "And how did that come about?"
With a sour look on her face, Kravitz replied, "Who's Lily Allen?"
Andy Cohen was living the shade, saying, "I guess she didn't warn you."
"If by 'kissing' she means, like, attacking, then yes, she kissed me," she said. "She attacked me."
"Is that how she portrayed it in the book?" Cohen asked. "No? It was portrayed like…"
"Like I wanted it," Kravitz said, finishing his sentence.
"So, you weren't thrilled," Cohen said. "Did you read the book?"
Throwing more shade at Allen, Kravitz replied, "I don't think anybody read the book." Cohen then summed up how just about everyone in the studio felt, saying, "Man, I love Zoë Kravitz!"
In Allen's recently published memoir, My Thoughts Exactly, the "Smile" singer described their encounter in 2014 ago as such: "For my New York shows, Zoë Kravitz and her band Lolawolf supported me, so I got to know Zoe a bit. We became friends. Later in the tour, when we were in Washington, the girls and their nanny, Jess, came out to visit me for a few days, but I had to go back to New York for a day or so for work. Zoe and I went out partying and ended up kissing. I heard that later that same night she'd got down with A$AP Rocky. 'Go girl,' I thought."
(E! and Bravo are both members of the NBCUniversal family.)
Source : Link